Free Life Insurance Leads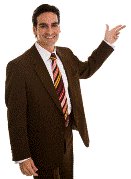 IF YOU CAN write just one average life insurance case, we'll give you enough qualified leads to write another … and another … and another … and another … and another ...
Dear Agent,
Imagine getting free life insurance leads for life!
Now imagine your free leads are so well qualified that your prospects have actually mailed you a written invitation to contact them for an appointment to discuss their life insurance needs.
Add to this our special demographic selection process that eliminates browsers and tire-kickers that don't have two nickels to rub together. Throw in the fact that these leads are so fresh the ink is barely dry. Then top it off by eliminating all other agents from the competition. These leads belong to you and you alone.
Sound good? Good.
Here's what you do. First, you need to call Jenny Smith, head of our life insurance division. But don't grab the phone just yet. Let me tell you what to expect when you do call.
Jenny is a very knowledgeable and patient person and will want to make sure you are both on the same page. Once you get past the chit-chat, she'll probably start by telling you about our Triple-Direct Life Insurance Leads. This system combines the power of direct mail, direct response, and direct appointments. You can get it free with less effort than you might imagine.
Next she might explain our Star Bucks Expense Reimbursement Program. This exclusive money-back program allows you to get fully reimbursed for your marketing expenses – everything from buying more life insurance leads to a new laptop. Qualifying is easy.
Then there's our exclusive Million Dollar Star Ship Cruise. Say goodbye to stuffy insurance dude convention "vacations." Choose from 9 Caribbean itineraries. Sail when and with whomever you want. (If you can't win this one, you're not getting out of bed in the morning!)
Finally, Jenny might tell you about our Star Search Agent Referral Program. Know of another agent who might need life insurance leads? Refer them to us and we'll send you a cool $100 when they write a piece of business. Jenny will go into all the details with you, of course.
The Bottom Line?
These programs are only some of the perks awaiting you at InsuranStar Marketing. And the way you get the freebies? Sell a lot of life insurance!
Which is really what Jenny would like to talk to you about.
See, we're willing to give you the Star Treatment here at InsuranStar Marketing. That means investing our time and resources into your career. In return, we don't want your effort.
But we promise to go easy at first. We'll begin by getting you appointed with a select few of our 30 major life insurance carriers. At the same time we'll get you oriented toward success by talking over your strengths, weaknesses, goals, plans, and exactly how we're going to move your career forward.
You may want to get started with one or more of our weekly training webinars. Or you could jump right in with A Star Is Born. Sell just one average life insurance policy in your first 45 days with us. We'll give you your first 500-piece mailing for Triple Direct Life Insurance Leads for free.

So … when you think about the whole package we're offering you – the free life insurance leads, the expense reimbursement program, the Star Ship Cruise, the cool $100, the 500 mailers, and more – we've probably got your current insurance marketing organization beaten hands down …
Because we're all about making you successful. You might even say "We're obsessed with your success!"
Okay … now go ahead and give Jenny a call.
Or, fill out the form below and she'll call you instead.