Start With
*50*
Free Annuity Leads
Per Week For 4 Weeks,
then Hustle Your Way
Up To
*75*
Per Week... Forever!
Insurance agent leads on steroids!
(How to Never prospect again)
Free annuity leads? Yes, 200* leads for the first month, then 300 leads per month forever. I'm not joking!
It's actually comical, the banter among insurance leads services as they pitch their products to top selling insurance agents as well as the uninitiated.
Like a TV game show you're asked to pick Door Number One: free annuity leads; Door Number Two: telemarketed health insurance leads; or Door Number Three: insurance agent leads generated by a secret formula that cannot be divulged. No wonder insurance agents are gun-shy about freebies.
Most life insurance agents who have survived the hungry years have also drifted from one insurance leads system or annuity leads program to another, eventually discovering the gospel truth that most leads stink! Some more than others.
And the one discernible difference between the leads that stink the most and the leads that stink the least is determined by the question, "Do they fit the mold?" In other words, have they been positively profiled? Better still, do the prospects possess characteristics IDENTICAL to those of EXISTING annuity holders?
Enter the term
'Client Cloning'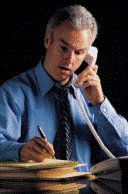 Let me tell you about the most revolutionary prospecting breakthrough I've seen in my three decades of insurance prospecting. Before you spend your valuable time appointment setting with just any leads, you'll want to read the following information carefully.
Based on the "Client Cloning" concept, our computers analyzed the financial, demographic and psychographic characteristics of tens of thousands of EXISTING annuity and LTC policy owners.
We formulated advanced targeting algorithms capable of identifying prospects with the greatest likelihood of purchasing annuities. We then scanned our 200 million-name database and identified those whose personal characteristics matched those of these KNOWN BUYERS. It's as if we've CLONED your clients!
What's more, remember when annuities were like vanila ice cream cones? You could have any flavor you wanted as long as it was fixed interest, fixed interest or fixed interest. Or even worse, a VARIABLE annuity with total risk of loss!!!
How exciting will a Fixed Indexed Annuity be to these prospects when you tell them about getting a portion of the upside earning potential of the stock market without any of the downside risk of loss!


Now imagine a company that will start you out with 50 'Cloned' free annuity leads each week - 200* leads per month - from senior consumers who need your financial advice. You get their name, address, phone, age, income and asset value.
These free annuity leads are delivered to your personal email box every Sunday evening so you can hit the ground running on Monday morning. Phone numbers have not been scrubbed against the National DNC List, but you can easily do that yourself by clicking on the link and following the simple instructions. In any case, the prospects are yours exclusively. Nobody but you gets to go after them.
Best of all, if you sell a few decent cases with your first 200* free annuity leads you'll graduate to 75 free annuity leads per week... FOR LIFE!


And If You Think Getting Free Annuity Leads Is Good, Look What Happens When You Actually Sell Something!
Sell just two average cases (minimum 10,000 QPCs**) and we'll give you your next 5 to 10 Direct-Response Prospects - ABSOLUTELY FREE!
Introducing...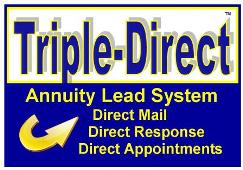 For every two average applications you write, you'll earn a FREE 500 PIECE TRIPLE-DIRECT MAILING to zip codes of your choice.
With each mailing my agents average 5 to 10 or more response cards from consumers requesting to be contacted ASAP.
You'll set 4 to 8 appointments and write 2 to 3 cases. This, of course, gets you another 1 or 2 FREE 500 PIECE MAILING! And your Wheel of Fortune keeps turning!

What's more, by submitting your first two average-size cases within your first 45 days, you'll (1) Earn membership into our prestigious Producer Achievement Awards Club, (2) Receive a free 500 piece TRIPLE-DIRECT mailing, and (3) Get your complete sales kit plus full access to other FREE annuity lead generating systems to stuff more Fixed Indexed Annuity commissions in your pocket.
Want leads right now? Go to our special TRIPLE-DIRECT ORDER FORM and buy them now at a discount.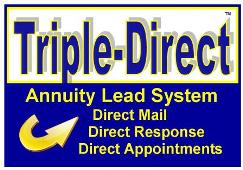 "This free annuity leads program actually makes your prospects contact you! Eliminates prospecting completely! Work half as much while doubling, tripling, even quadrupling your income! Ask yourself, how much more annuity business could I write if my prospects contacted me for the appointment ...instead of the other way around!"

"This mailer works great! I went out and visited the people who responded and gave them the information they asked for. A couple of days later, I received a call back from one of the prospects and he said 'lets do your program' and I wrote a $130,000 annuity. I need to place another order. " - Stephen Burtenshaw - Blanding, UT



"It was too good to be true; I got 4 and wrote 2." - Dean Barnes - Spencer, IA

"It gives you the opportunity to call people you would never otherwise have been able to reach." - Myron Bagwin - Boynton Beach, FL



"The program is excellent. The leads are certainly bonafide and the reception is excellent." - Edwin Slovitt - Hollywood, FL

"They were qualified leads, and the people had the right income. They were all located close to my office. You just have to close the deal." - Lee Wyatt - Portland, OR



"I've been writing annuities for about 10 years and was convinced to transfer my appointment to get these "free leads". I figured, "what the heck" and lo and behold the leads turned out to be great. I wrote my first 64k case just last week and now I find out that after this business is paid, there will be points available for me to do 2 more of these mail drops, without having to spend a nickel of my own money… and I have another case in the works!" - Charles Davis - Danvers, MA

So what's the catch? How do I get my free annuity leads? It's easier than you think. Just sign with one or more of our top rated carriers, and you get the 200* Client Clone Free Annuity Leads plus TRIPLE-DIRECT (500 leads direct-mail/direct-response) with minimal production. What's more, you get top GA commissions, too. (Must be a non-captive, licensed life insurance agent.)

Before contacting me, make sure you have (1) an annuity case to submit to one of our carriers in the amount of $40,000 or more, OR (2) the confidence that you WILL submit a case within 30 days, AND (3) a burning desire to take your career TO THE TOP! If so and you're ready to sign, let's go for it!


Ever wonder how much money the
top 1%

of annuity agents in America earn? Try $1 Million per year. Want a sneak peek at how they do it?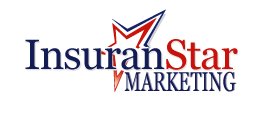 *One annuity case (any size) is required per 50 Free Leads.
**Qualified Production Credits (QPCs) allow for the combination of different annuity, life and LTC premium/products. Premium from all carriers is included and credited at 100% of annualized paid life and LTC premium and 5% to 10% of paid annuity premium, depending on product or carrier.

Free annuity leads and selling systems are only part of what this website has to offer!